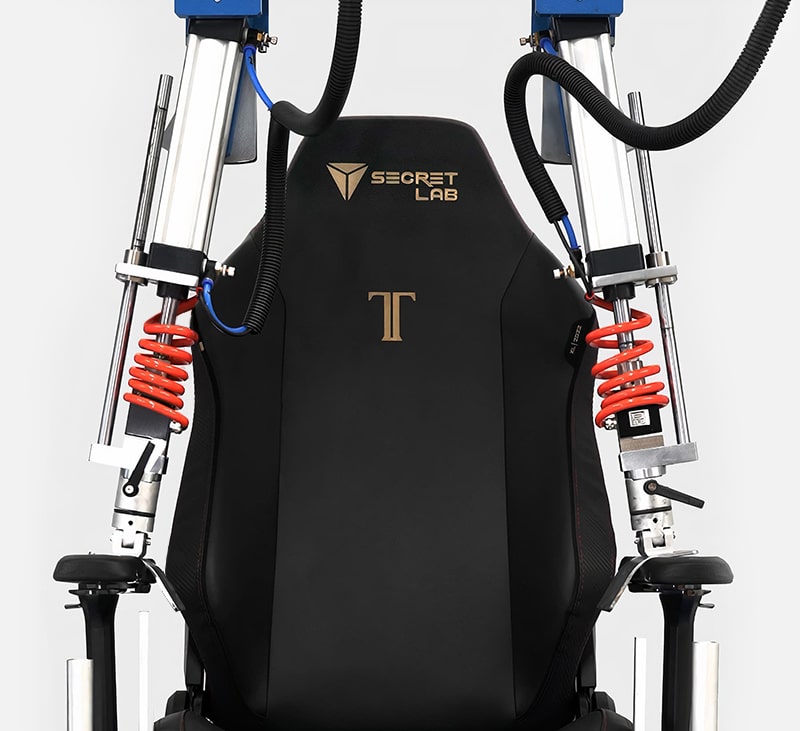 Engineered comfort
Every Secretlab chair begins life in our in-house lab and testing facilities. We design, test and iterate every aspect of our chairs to ensure they're more comfortable and sturdier than ever. Every detail matters, down to how we stitch individual upholstery panels together. Our engineers run extensive research programs to understand how people interact with our chairs, so we can optimize them for better ergonomic support.
Tomorrow's chairs, today
Our position as market leader means economies of scale enable us access to state-of-the-art manufacturing technologies to realize advanced designs, craft premium bespoke materials, and design for our users' well-being and experience. Over the years, we've invested millions into R&D to improve every single chair and desk we make. Cutting-edge engineering allows us incredible scale to address ergonomic feedback from our customers — over 2 million of them worldwide.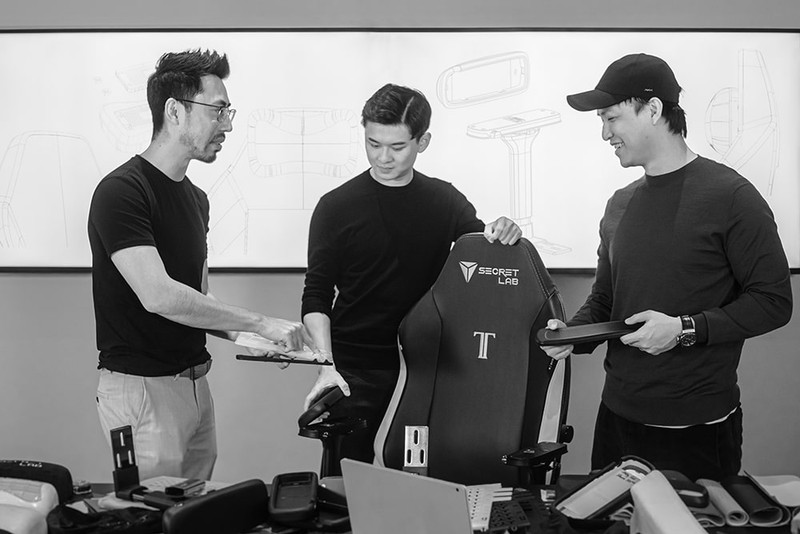 Left to right: Vincent, Head of Product Development, Ian Ang Co-Founder and CEO of Secretlab, Alaric Choo Co-Founder And Chief Strategy Officer of Secretlab.
---
Hours spent on testing
50,000+
Going beyond industry standards
We take testing very seriously. That's why every Secretlab chair is dropped, dragged, and knocked over hundreds of thousands of times in the development process to ensure they're as tough as they can be. Our chairs are put through rigorous tests set by internationally recognized standards bodies, and then pushed to the limit with custom scenarios that far exceed industry standards and anything they'll face in the real world.
---
What's New in
2022
Click to learn more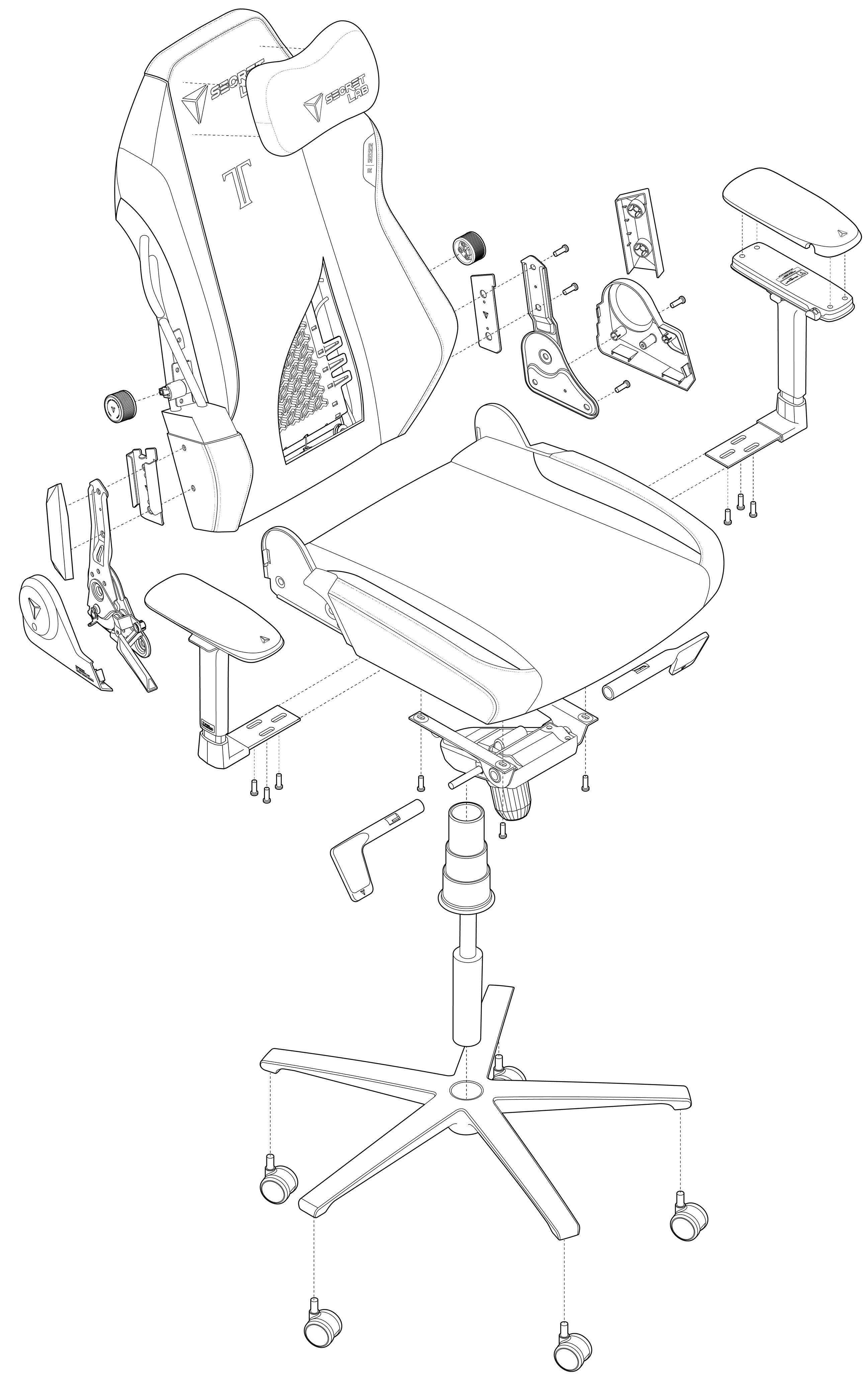 How we design and test
From advanced computer simulations to relentless tests in the lab and with real users, we make sure every iteration, component, and material sample is built to go on (and on). If something falls even just a little short, we go back to the drawing board to redesign it.

Ergonomics Advisory Board
---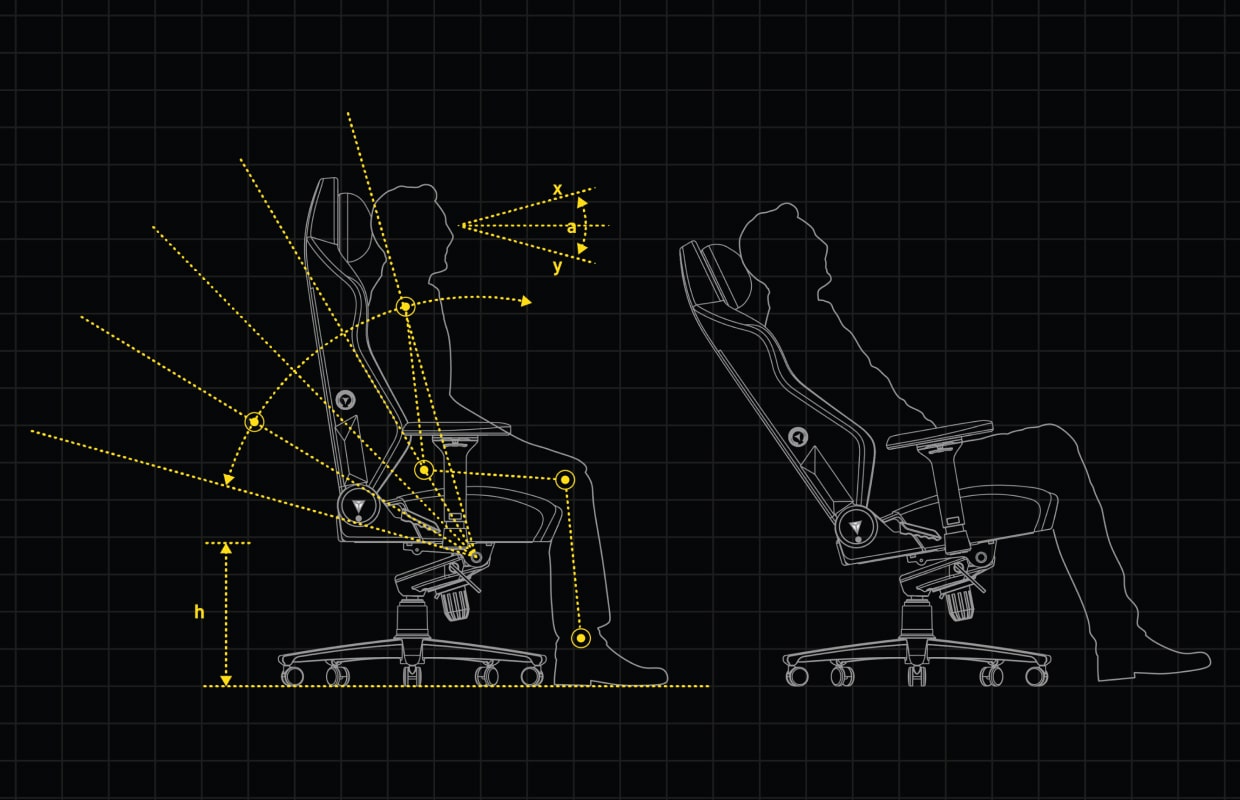 Every design change we make is grounded in data and feedback drawn from testers and users worldwide. To further refine even the smallest details, we assembled an independent Ergonomics Advisory Board of academics and experts in the fields of biomechanics, orthopedics, and more to work with our engineers on detailed ergonomic studies and product development reviews.

Dr. James Goh
Ergonomic Advisory Board Member
Professor, Department of Biomedical Engineering, National University of Singapore
"The Secretlab TITAN Evo 2022 allows for all the essential adjustments to achieve a good sitting posture. The lumbar curvature contours nicely at an appropriate height, providing an evenly distributed contact area that adapts to and supports your lumbar spine well."

Dr. Jordan Tsai
Ergonomic Advisory Board Member
PT DPT OCS Esports & Founder of Respawn Therapy
"I can feel comfortable recommending the Secretlab TITAN Evo 2022 to the esports players I work with because I know the amount of detail they have put into refining each feature to improve player health and performance."

Dr. Lindsey Migliore
Ergonomic Advisory Board Member
Esports Medicine Physician
"As a doctor, I previously directed my patients towards office-style chairs designed for long hours of sitting. However, the work that Secretlab has put into ergonomic development, and the breadth of expertise they're bringing to improve the experience, has changed my mind. As a gamer myself, I can vouch that the right support puts you light years ahead of the competition — exactly why the built-in lumbar support on the Secretlab 2022 series is a game-changer."
Technology
---
---
Lumbar support system
Our in-lab setup is outfitted with sensor-lined pressure mats to map pressure distribution. We found that people of varying heights and builds produce vastly differing peak pressure patterns. A chair should distribute weight equally well for all body shapes and sizes — 2-way lumbar support systems help smooth out pressure variances, but we knew we could do even better.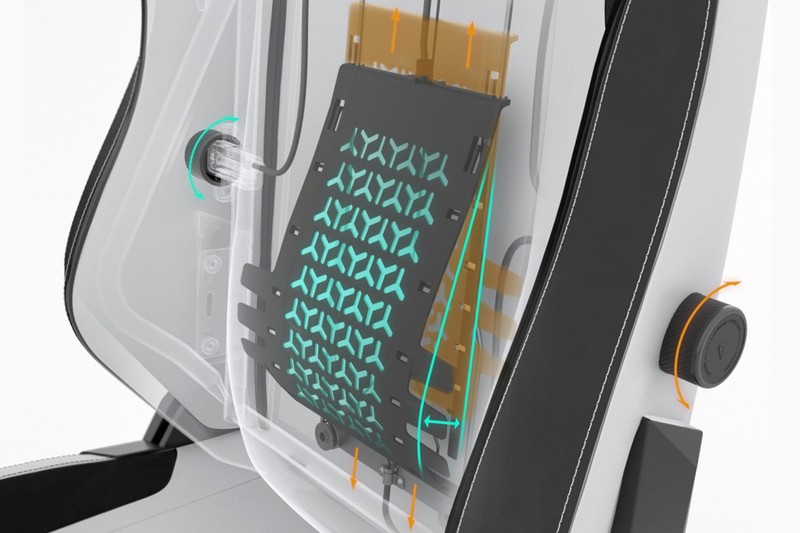 We developed a fully adaptable 4-way L-ADAPT™ Lumbar Support System for more consistent support on the Secretlab 2022 Series. Our patent-pending* mechanism was engineered with insights from our overwhelming success with the Secretlab TITAN. A taller curvature height and increased motion range provide up to 57% more back coverage, tucking neatly into the curve of your lumbar spine. A revolutionary matrix of 63 adaptive living hinges flexes in tandem with micro-movements and the unique shape of your body for more targeted support.
*SG Pat. App. No. 10202107378T & PCT App. No. PCT/SG2021/050585
---
Seat base & backrest
Over the years, our team of engineers worked with testers of varying heights, weights, and body types from all across the world to meticulously sculpt each of our chairs for maximum ergonomic comfort. Our signature patent-pending cold-cure foam mix provides the ideal foam density for optimal support, and is then shaped and contoured to minimize peak pressure points.
Proprietary pebble seat base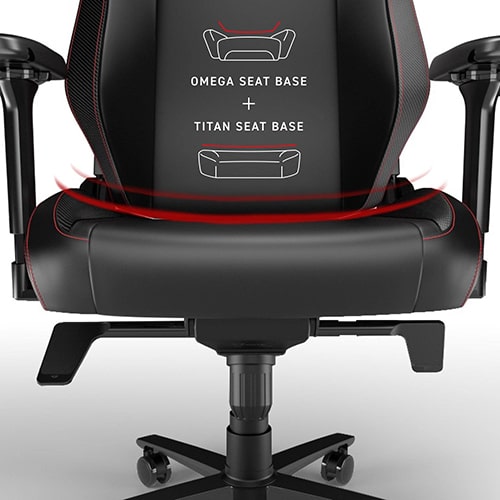 Our proprietary pebble seat base fuses the best of the Secretlab OMEGA 2020 and TITAN 2020. Research into human factors and ergonomics showed us that people tend to shift around a lot in their seats over the course of the day. The redesigned seat base is shaped to accommodate natural movement and different sitting positions, while the gently sloping side wings help guide you toward the middle of the seat. Supportive comfort, with none of the constraints of a typical gaming chair.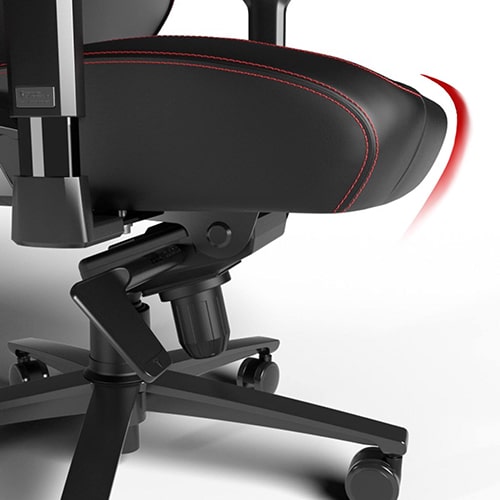 Waterfall edge
Through extensive work with our dedicated team of testers, we were able to identify common pressure points and mold our seat for greater comfort. The gentler seat incline takes some pressure off your thighs, while the more acute angle at the seat edge reduces pressure behind your knees and allows for greater freedom to position your feet under the chair.
Backrest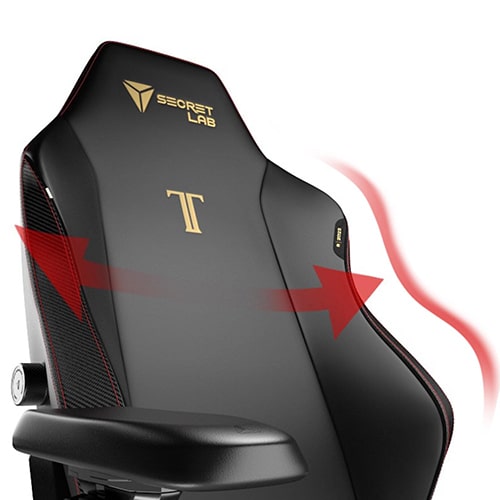 We've reshaped the familiar silhouette of the Secretlab TITAN to feature more generous side wings, while dialing back on its curves. All so you can enjoy a seat that cups your shoulders gently while taking the strain off them.
---
Full-Metal 4D Armrests with CloudSwap™ Replacement System
Our engineering team spends hundreds of hours designing new ways to keep you comfortable. After all, making the best means doing even the little things right.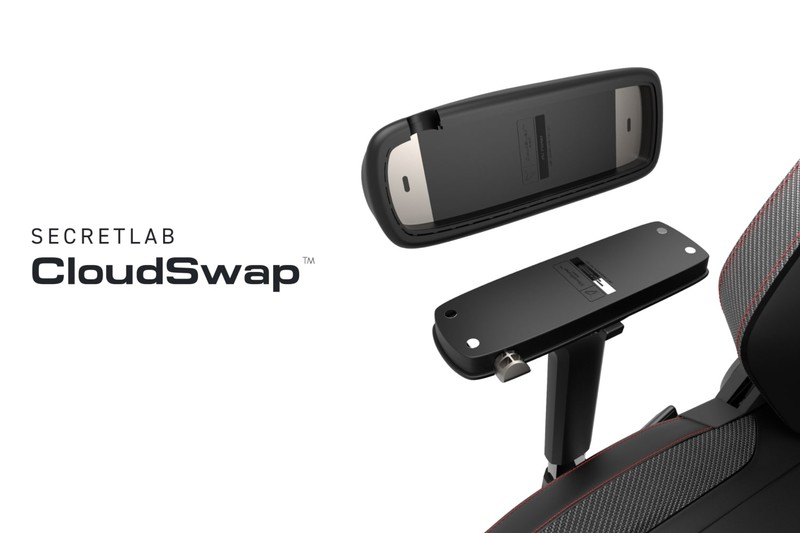 We believe in being able to choose exactly how you want to sit, so our magnetic CloudSwap™ replacement system — the world's first on a gaming chair — lets you swap out your gaming chair armrest tops on the fly. Now you can upgrade and take advantage of more advanced and supportive materials.
---
Magnetic Memory Foam Head Pillow
We didn't need a lab to know straps weren't great, but we leave nothing to chance. So we set out to learn how we could redesign our head pillow to enhance support for your posture.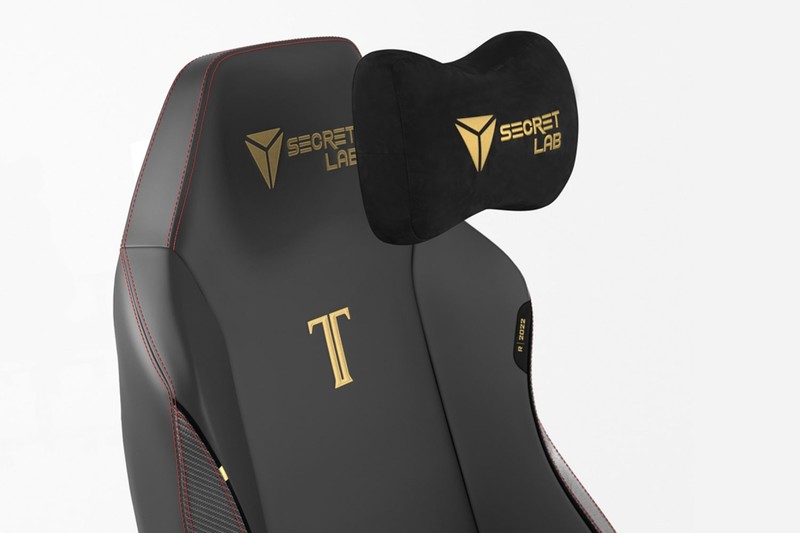 To model a new design, we studied the positions of people's heads and necks over long hours, monitoring micro-movements and mapping out contact points. What resulted is our new patent-pending* Magnetic Memory Foam Head Pillow, designed with our 100% high-density, visco-elastic Secretlab PlushCell™ foam that was engineered in-house. Crafted with a more aggressive upper curve, this provides enhanced support and pressure relief for the base of your head in a neutral position. To cater to our users and millions more, we embedded custom magnets that allow the pillow to be adjusted over a wider range. Magnets don't like anything to come between them — we spent a lot of time refining our design so they snap onto your headrest without a hitch, and stay there.
*SG Pat. App. No. 10202107385U
---
Heavy-duty Class 4 Hydraulics
Every design change we make aims to help more people achieve the optimal sitting posture. This means setting your feet flat on the floor, with your knees bent at roughly 90°.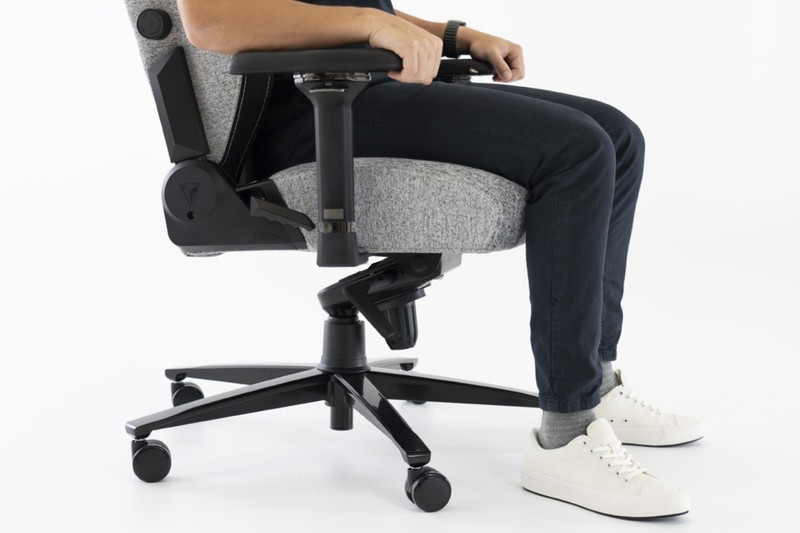 Promising optimal height fit for as many people as possible means fanatical consideration at all levels. So we've re-engineered a new, shorter hydraulic mechanism for the Secretlab TITAN Evo 2022 S and R to accommodate an even wider range of people.
---
Materials
Your chair should look and feel as good as it did on Day 1. That's why we're constantly refining the composition of each layer of our leatherette and the construction of our signature fabric, so they feel better and last even longer.
Secretlab NEO™ Hybrid Leatherette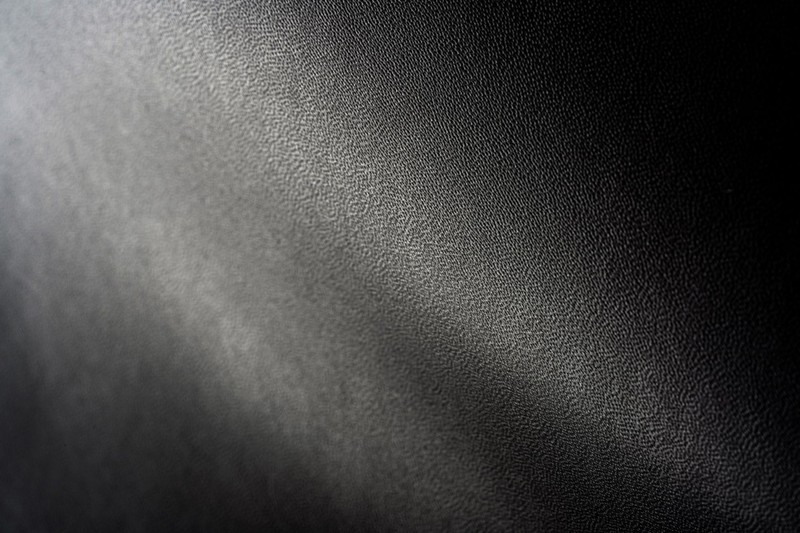 Over the past 6 years, we've worked with myriad types of leatherette and learnt a lot about how to bring out the best in it. Our new-generation premium leatherette is our most advanced yet. Using the latest manufacturing technologies developed right in our labs, a unique resin top laminate is bonded to the base layer. After a careful finishing process, the result is an ultra-smooth top hide that feels incredible under your skin. Secretlab NEO™ Hybrid Leatherette exhibits a super smooth grain, recreating the rich luster of NAPA leather.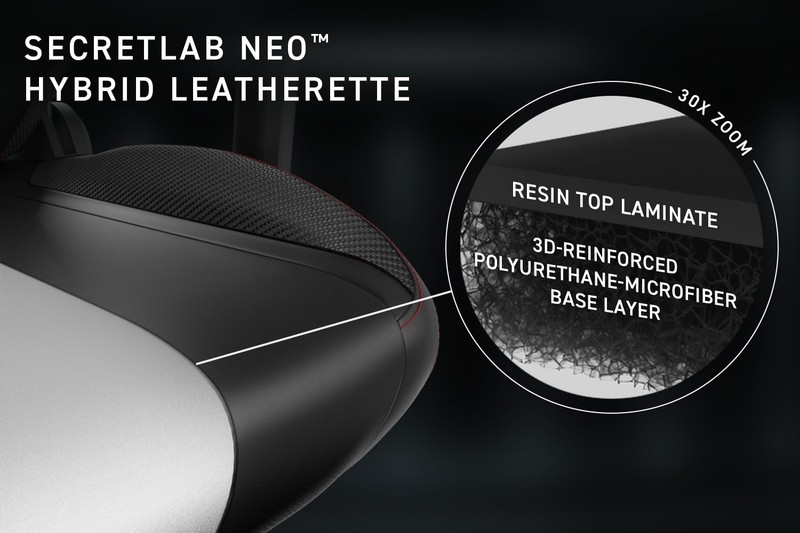 Regular PU leather peels because of moisture from the environment. When the middle foam layer absorbs moisture, it becomes susceptible to a hydrolysis reaction that degrades it. To avoid this, we stripped out the middle layer and reinforced the base layer with a bespoke 3D structure of ultra-fine polyester fibers for exceptional strength, flex, and abrasion resistance.
Taber® Rotary Platform Abrasion Test
Taber® Rotary Platform Abrasion Test
We experimented with 8 different leatherette compositions to find one that could further improve the durability of our industry-leading Secretlab PRIME™ 2.0 PU leather. 12x more durable than regular PU leather, Secretlab NEO™ Hybrid Leatherette combines the finest elements of different leatherette samples.
Our leatherette is subject to the Taber Abrasion Test — the industry standard for wear resistance — where contact against the sliding rotation of two abrading wheels on a turntable reveals abrasion resistance at all angles relative to the grain. With rub-wear action over 10,000,000 square millimeters of surface area using a 300% heavier load, our leatherette has been tested to outlast even the harshest conditions.
Secretlab SoftWeave™ Plus Fabric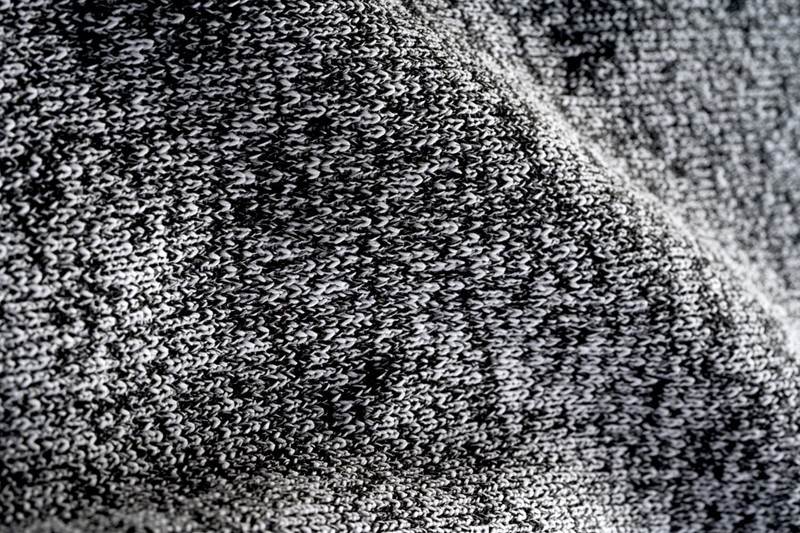 A technical knit that's a first for performance seating. Interlacing loops of high-strength yarn fibers allow for smaller details to be incorporated in each and every stitch. With control over every thread and pixel, we're able to implement multiple layers of varying colors, shades and tones. This enables us to map complex designs into our fabric, including a 3D layered gradient on the side wings of each chair.
Tensile Test
Tensile Test
3.5x stronger than its predecessor. SoftWeave™ Plus fabric is softer and more breathable, and engineered for even greater tensile and seam strength. Stretched for hours on end in both the warp and weft direction, SoftWeave™ Plus fabric emerges completely unscathed. The high-performance technical fabric you want for years of that Day 1 feel.
---
Testing
We engineer our chairs to have your back for years to come. Secretlab chairs are put through over 190 load, durability and material tests to ensure that they're more than able to stand the test of time.
Load Tests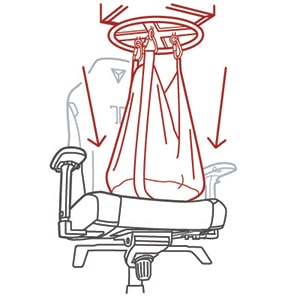 Drop Load Proof Test
136kg (300lbs) weight dropped onto the center of the seat.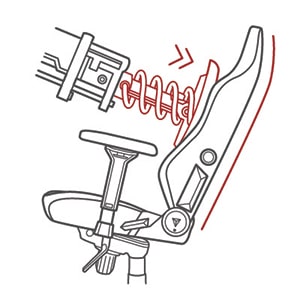 Backrest Load Test
A force of 1,001N is applied to the backrest for 1 minute.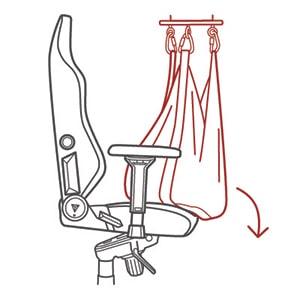 Forward Overturning Test
A vertical force of 600N is applied at points most likely to result in overturning.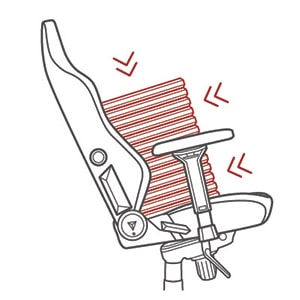 Rearward Stability Test
13 heavy discs are loaded against the backrest.
---
Durability Tests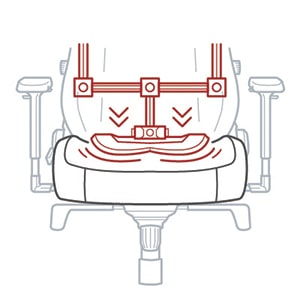 Seating Durability Test
100,000 cycles
A 57kg (125lbs) weight falls onto the seat.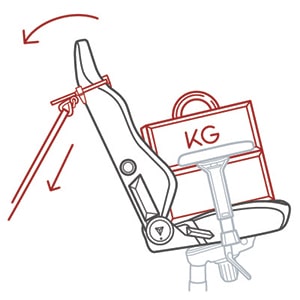 Tilt Mechanism Test
300,000 cycles
Chair is tilted with 109kg (240lbs) weight on the center of the seat.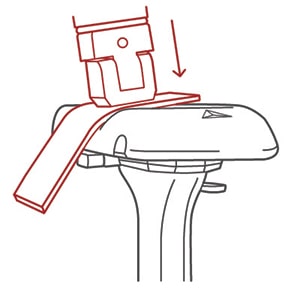 Armrest Durability Test
60,000 cycles
A force of 400N is applied to each arm.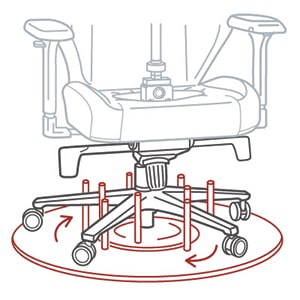 Swivel Test
120,000 cycles
A 122kg (270lbs) weight is applied on the seat at both its maximum and lowest height.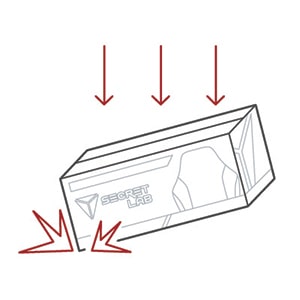 Packaging Drop Test
We drop our packaging several times from height to make sure it protects your chair from the bumps and knocks during shipping.
---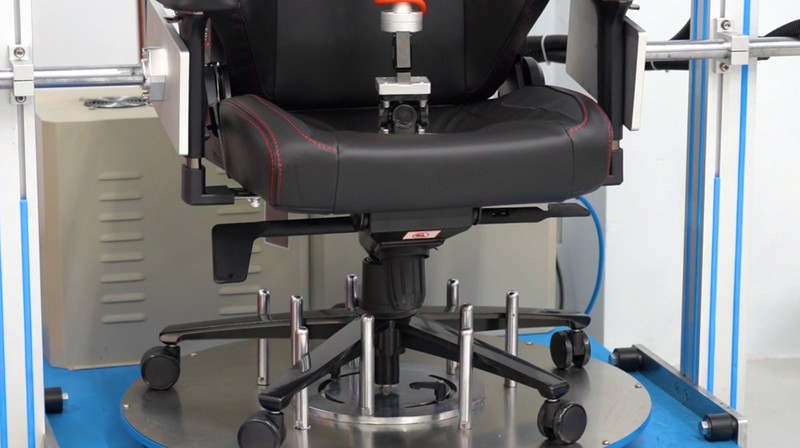 Secretlab chairs are engineered for lasting comfort over the years. A lot of time is devoted to searching for more durable materials and creating tougher designs, which is why when something doesn't work as intended, we're prepared to replace it for you. Our industry-leading 5-year Extended Warranty covers you for the years ahead, so you can focus on putting in your best work.
* Receive a complimentary 2-year extension for a total warranty period of 5 years when you share a picture of your Secretlab chair. Learn more about our Extended 5-Year Warranty programme here.
Learn more about our certifications
Patents / Design Registrations
Secretlab's products are protected by the following registered patents and design registrations in various countries and regions.
2022 TITAN Evo Series
Utility Model No. 202120730172.X (CN)
Patent No. 10202000104V (SG)
Design No. 202113662 (AU)
Design No. 008579635-0001 (EU)
Design No. 008579635-0002 (EU)
Design No. 202117821 (AU)
Design No. 30202110343P (SG)
Design No. 30202110194W (SG)
Design No. 6181058 (UK)
International Design Registration No. DM/215365 (EU, SG and UK)
International Design Registration No. DM/215273 (EU, SG and UK)
OMEGA 2020
Patent No. 10202000104V (SG)
Design No. 004407674-0001 (EU)
Design No. 2019306414057 (CN)
TITAN and TITAN XL 2020
Patent No. 10202000104V (SG)
International Design Registration No. DM/204840 (EU, SG and UK)
Design No. 201916028 (AU)
Design No. 2019306414057 (CN)
MAGNUS Series
Utility Model No. 202120792809.8 (CN)
Utility Model No. 20 2022 102 069.8 (GE)
Design No. 30202008571T (SG)
Design No. 202112541 (AU)
Design No. 202130224672.1 (CN)
International Design Registration No. DM/214659 (CA, EU, UK and US)
Patents / Design Pending Applications
2022 TITAN Evo Series
Patent Application No. 10202000095X (SG)
PCT Application No. PCT/SG2020/050794
PCT Application No. PCT/SG2021/050006
Patent Application No. 10202107378T (SG)
Patent Application No. 10202107385U (SG)
PCT Application No. PCT/SG2021/050585
Patent Application No. 10202106602T (SG)
Patent Application No. 10202201711Q (SG)
Patent Application No. 202180007929.50 (CN)
Utility Model Application No. 202220804963.70 (CN)
Patent Application No. 10202203785V (SG)
Patent Application No. 22167846.90 (EU)
Patent Application No. 17/717,392 (US)
Patent Application No. 17/856,135 (US)
Design Patent Application No. 29/795,481 (US)
Design Patent Application No. 29/795,489 (US)
Design Patent Application No. 29/832,291 (US)
OMEGA 2020
Patent Application No. 10202000095X (SG)
PCT Application No. PCT/SG2020/050794
PCT Application No. PCT/SG2021/050006
Patent Application No. 10202201711Q (SG)
Patent Application No. 202180007929.50 (CN)
TITAN and TITAN XL 2020
Patent Application No. 10202000095X (SG)
PCT Application No. PCT/SG2020/050794
PCT Application No. PCT/SG2021/050006
Patent Application No. 10202201711Q (SG)
Patent Application No. 202180007929.50 (CN)
MAGNUS Series
Patent Application No. 10202011185R (SG)
PCT Application No. PCT/SG2021/050688
Utility Model Application No. 202120792809.8 (CN)
Patent Application No. 10202205283T (SG)